Small business owner and pet aftercare expert Ben Riggan is at the forefront of a industry that has recently exploded into the "billion with a b" market. His truly innovative and progressive company, Paw Pods, is changing the way people bury their pets. It's never easy parting with a pet. A member of your family, they deserve to be treated with respect and buried with dignity. An expert in the pet aftercare industry, entrepreneur Ben Riggan created Paw Pods as a dignified, respectful and eco-friendly way to lay our furry friends to rest. A new development within the pet industry, Paw Pods is leading the way in aftercare with a set of pet burial and cremation pod products that uniquely serves the ever-growing pet lover community.
"When working with customers and pet parents, we never anticipated how passionate people are about the relationships with their pets.  We've had phone calls to our help desk that have lasted more than an hour because people were so distraught over the idea of saying goodbye.  It's very powerful to help someone when they are feeling such pain.  As a result, we work tirelessly to provide the best product at the most reasonable price to give pet parents and pet lovers the best opportunity to honor their beloved friends" says Riggan.
Born out of a tragic experience having to put down two of his cherished dogs, Riggan had not planned this event ahead of time and – like the majority of pet owners who do not think about what will happen the day their pet passes away – he learned a traumatic lesson. Shocked to realize that his animal companions, who he considered part of the family, were returned back to him in "glorified" plastic bags, he was determined to make a change. Touching him on a level that millions of other pet owners were also experiencing every day, Riggan took action to make a real impact in the pet aftercare industry.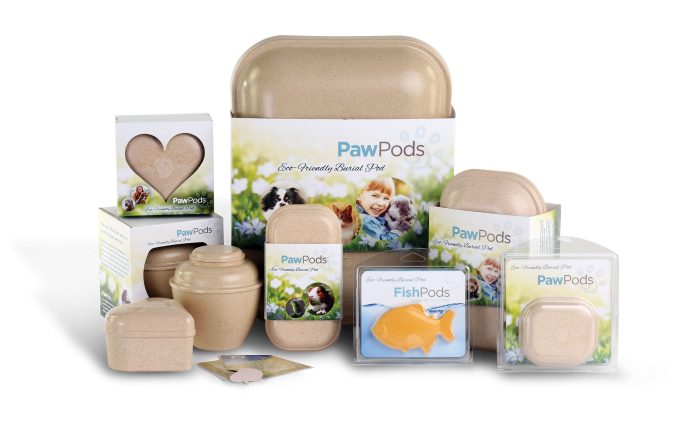 With 65% of households owning a pet – each year, 50 million of them pass on annually. A truly amazing number, the business has boomed to around $62 billion, proving that Americans love their pets like a family member, and are willing to spend both during their lifetime and at the time of death for only the best products and services.
After years of development and research, Riggan created Paw Pods. An entrepreneur, but green guy at heart, he customized Paw Pods to be 100% green, sustainable and biodegradable. However, unlike so many "pet caskets," Riggan wanted a sturdy, strong construction – not flimsy paper. Constructed with sustainable bamboo and rice husk, Paw Pods not only is a sensible alternative – the pods and urns can be decorated as a therapeutic benefit. While pet owners may not need Paw Pods now, Riggan wanted a reliable product to be there when they do: "I decided to create a company to provide a better way for pets to come home, whether they will be buried or cremated."
In an effort to help pet owners everywhere be more prepared for their pet's passing, Paw Pods founder Ben Riggan has become an expert in the pet aftercare industry – with a quickly growing business.
When asked where he sees the pet aftercare industry going in the next 5-10 years, Riggan stated; "This part of the industry is really in its nascent stage.  We are just starting to understand how people want to honor their pets.  Moreover, we are reaching more people than ever before and the concept of burial/memorializing your pet is now much more widely accepted.  As a result, I see this part of the industry growing exponentially over the next 5 and 10 year cycles.  We've doubled in the last 3 years and there's no reason to see that slowing down.  Pet spend is growing as fast as any other area of spending and pet aftercare continues to be the fasted growing sector within the pet industry.  I do believe we will continue to see outsized growth in "green/biodegradable" products because of the changing dynamics of the buying base, as well as increased social awareness."
Hundreds of Business Opportunities – Visit the Home Business EXPO
The post Ben Riggan: Creating an Alternative Solution to Burying Beloved Pets appeared first on Home Business Magazine.
Author: Editor
Powered by WPeMatico