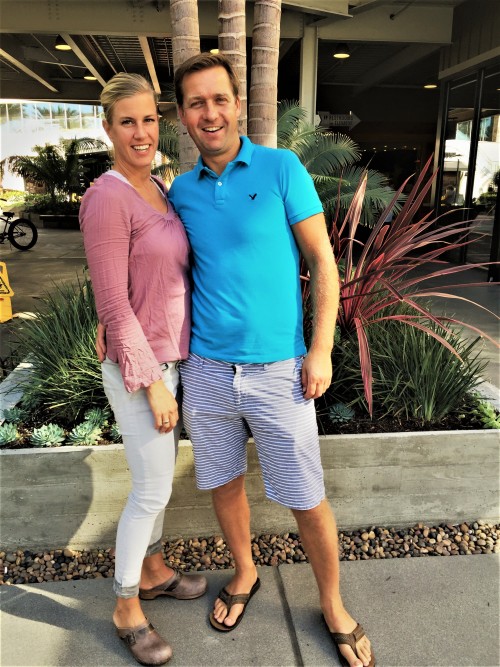 Great ideas know no borders, and successful ideas flourish when pushed to the limit. Uprooting from Germany to sunny Huntington Beach, CA, Michael and Battina Zellmer have launched a multi-faceted business that strives to bring people from all walks of life and talents together. Home Business Magazine spoke with the inspiring married duo about their plans and hopes for their blossoming company, XquiX.
HBM: What is the vision behind XquiX?
Michael: "The main idea is to bring partners over here into the U.S. We coordinate their sales, activities, and channels. Then, we take these contacts and bring them to special events together and work out new ideas for the branches so that artists come together with athletes, with musicians, with normal businessmen. They get to know each other, dive into work with each other, and then have ideas. It's working on new business ideas in the long run."
HBM: What have been some of your most successful methods in finding new people to bring to America or to connect with other people. What have been some of your top methods of growing XquiX?
Michael: "I would say, in general, just being ourselves…"
Battina: "I think it's your sports background. You know so many people already from your sports career and everything. It was kind of like, when we decided to do it, we realized he's the perfect person. He's been all over the world, and has such a huge network of water polo and businesspeople. Even what he did before, up to now, it's like, "Oh, there's somebody who's the president of the water polo club in Hamburg, and now they're working together on another business idea." That's how it already works."
---
Ecommerce Home Business Start-Ups

 – Visit the Home Business Mag EXPO
---
Michael: "Every person we meet or I meet through my life, I'm always thinking in the back of my head how they could be useful to get in contact with, as a connection. Everyone who gets to know me, may think, "Oh! That is a guy who can help me with other things." So I'm a networker that can open doors to other social classes and business classes our clients don't have contact with. This is the main idea, that many people have good networks in their own business, but not with other branches. Athletes don't usually mesh with art people or musicians. That's our idea in the long run – to bring these people together."
Battina: "So far, it was kind of ironic. This is us going out there and finding new people. Before we left, the last couple of months there, it ended up being people going up to him with requests. We've never been in the need—"
HBM: "So it's more organic and word-of-mouth then?"
Battina: "Yes! It was not that he needed to reach out to people, and be like, 'hey, what can we do together?' Every day, he's like, "Oh! I have to talk to this or that person – they want to do this or that. It was nice that it was an automatic thing."
Michael: "It seems a little bit, that I have the characteristic that people easily trust me. I could be a person they can trust and lean on to help them. I think many people are superficial and don't care, and so people come to me asking for help with their projects. Also, our partner with the water polo equipment said, 'Yes, we were thinking it would make sense to go to the U.S.' But if he goes, brings his business over, he would only do it with me, not with anyone else. He had bad experiences with other people saying and promising much, then not following through. He said, "If you do it, then we do it together. That's nice."
HBM: Can you talk more about your water polo products manufacturing? You have another project you're tying into the whole business plan?
Michael: "That's one base of our business. It's water polo equipment which can be customized for each team and club. It's a company from Hungary, which was a supplier of a German National water polo team. I was a manager of the team. I got in contact with the CEO of the company. I had experience with the equipment for four years and was convinced that the quality was good and thought that it was a product that could be really successful in the U.S. because water polo is really huge here in comparison to Germany. We worked out the idea if this company was interested in going over here and how it could work. In the end, we just agreed to have the distribution rights for all the U.S., and I am in charge of developing the business. It's not my goal to be a sales rep for this company. It's more that I have the rights to coordinate a sales system and in the end, I have nothing to do with the sales. I want to concentrate on networking. That's the same with the artist—working together. It was just meeting for another project—"
Battina: "I went to high school with her. We knew who each other were, though we were never friends or anything. I was friends with her on Facebook and saw her work. She put up videos of her live art performances. I really liked her paintings because I thought they were amazing because she doesn't use a paintbrush. Everything's done with her fingers and spatula. She makes the color with a toothbrush and it's really great. Michael got me one of her paintings for my birthday! We met with her, mentioning that we would be moving to the U.S. The idea was born. She has a lot of projects lined up here."
HBM: A lot of our readers like to know about your challenges and biggest successes. What's one challenge you overcame and what's your biggest success so far with your company?
Battina: "The challenging part to me is the American attitude. Germany is this nation where you send an email and have a response within an hour. Here, you send out an email, and it's a week later, and you assume they're not interested. You follow up, and they say, 'Oh, I was on vacation here and there, etc.' We know that's how it is here—that's the challenge—but we know what we're getting ourselves into. I think that's the value of us. People know we're on the point. We're German. Everything is going to be done on time. When I went to school here, a professor I worked with, she asked me when I could have a paper done, and I said, 'tomorrow.' She said, "Tomorrow! Take your time!" It's not a big deal for me to just get it done. So that's a challenge, to not misinterpret the reason people don't get back to you. It's their way of business. It's not that they're not interested. I also have something good to say! In comparison to Germany, this is the country where networking happens. Every day, on the street, everywhere. People just talk to each other. I had this situation at Starbucks, where there was this lady waiting for coffee, and we superficially talked about stuff about my daughter like how cute she is, and where she goes to preschool, and how her language is. We're about to leave the store, and she turns back to me—she's a realtor—and she says, "I feel like we have more to talk about. I'll give you my business card." We went to my car, and I gave her mine and told her about the artist and it turns out she's this huge realtor lady who is a company realtor. Those situations are rare in Germany because people would not be talking. They have more of a narrow view. So that's a good and positive thing!"
Michael: "I have a challenge, which happened during our Visa application process. The idea of the company is the networking idea, but networking is not something everyone really knows. It's about bringing people together and having ideas, and perhaps in a few years opening some kind of lounge where you can have private events where we present our creative partners, where we have a working spot where we can have photo shootings, and so on. It was an idea where many people said, 'Sounds interesting, but I don't really understand what you want.' It's like a specialized coworking space."
Battina: "It's like an extended Starbucks where you can probably get a haircut, and have food, and a back massage, and whatever. Your medical exam, I don't know!"
Michael: "In the end, our attorney for our application process said, 'I don't really understand what your business is, and so then perhaps the authorities don't understand.' So we had to reduce it to—I decided I would make it so simple. Just two partners for sales. In the long run we want to do networking. We just explained to them though that we do sales, coordinating sales and money, and we connect them. Nothing too special, because it would only cause confusion. That was a challenge to realize that we had to keep it simple and not complicate the explanation of how it works, because people would understand over time where we're going with it. We gave an idea of where it could go."
HBM: What are some of the top advantages of working from home? What is one disadvantage?
Battina: "There are so many disadvantages (laughs). I think the negative one is that you always get distracted. There are dishes and laundry to do, and especially for him. I needed to remind myself that he's working right now! I was tempted to ask him to run errands, like we need water from the store! Physically he's here. It's kind of nice to be in another setup. But he does have an office where he can go. That was a requirement for the Visa."
Michael: "It helps when I need time to work, because there's nobody around who can interrupt you. The advantages are that you can work throughout the day, which is important because we have connections in Europe and more at night. It helps when I can work from 10-midnight, to send the last emails of the day to Europe. You can start when you wake up, and finish when you go to bed. That's also a problem because we have to know when it's not time to work. From the time our daughter comes home from preschool to the time I go to bed—it's better not to work."
Battina: "In Germany, being self-employed is 'Selbstständiger', which means you're by yourself, and 'standiger' means consistently, so it means you're on-call, by yourself. He checks his email at six in the morning—if he needs to go to the bathroom at four in the morning, he checks his email. It's crazy!
Michael: "A good thing with the home office is that you experience your family life. We have breakfast together, we can have lunch together if we want, and we have dinner together. It's not like I leave for the office before my daughter goes to preschool and I come back when my daughter's in bed. That is a good thing that you're flexible to coordinate your time like this. There's a good family/work balance. It's not that you work less. Normally you work more than an office job. But you can have time with your family."
Battina: "I think it requires a lot of discipline to get things done and really work, but on the other side, you have the flexibility to make your own schedule, which is nice."
HBM: Where do you want to see your business in three years?
Michael: "In three years, I hope we have 3 to 4 stable partners which we are responsible for, and that their businesses are working here successfully in the U.S. Water polo equipment is one, our artist is one! We have a smartphone application. We would like to have a strong cash flow so we can concentrate on being creative with our networking ideas, so we're able to open a lounge, where we have a point where we can bring people together, and have events, so we're not always needing to be in the home office and physical office. This is the plan. In three years, we'll have to extend our Visa, apply for the next five years."
Battina: "You have to show that you've stuck to the business plan in terms of the people you hired and things. It would be nice, because now it's sales and recruiting of new clubs, but Michael wants to get away from that and have people in that position taking care of those tasks. He wants to be able to have more of a hand in coordinating and pulling the strings." HBM
For more information, visit www.xquix.us.
The post From Germany to California: A Business-Savvy Couple Taps into the Power of Connection appeared first on Home Business Magazine.
Author: Editor
Powered by WPeMatico