The Global Business Process Outsourcing market value is estimated at $232 bn according to Grandview research and is expected to grow substantially due to pandemics, remote work, and general business trends. The Information and Technology segment has a huge share of the BPO market, especially small and medium companies providing, or outsourcing for themselves projects and opportunities.
But regardless of how other industries are performing within the outsourcing framework, IT has always been relying on outsourcing, so in 2021 it's more about how much IT companies are moving to outsource rather than if companies are still considering outsourcing as a business model.
According to TechBehemoths' 2021 Small and Medium Businesses Survey, ⅔ of all surveyed IT companies consider that outsourcing is a sustainable business model. Taking into account that the 2020-2021 period is considered a lockdown and remote-work oriented, it is no surprise that many companies are in favor of adopting the outsourcing business model.
On the other hand, 10% of all companies consider outsourcing as a non-sustainable business model, mainly due to their failure to reach new customers and attain new projects. Spencer, the Lift Conversion founder stated that "Outsourcing may help you get immediate satisfaction but when something breaks and you are the lead and the person you hired for the work is not responding, this is the way for us."
In addition, there are other 13.8% of companies that are still reserved on how outsourcing impacts the IT industry and cannot give a clear answer if it is a sustainable business model or not. However, these companies have recently started to outsource and have not felt the taste yet for a complete and solid position for this question.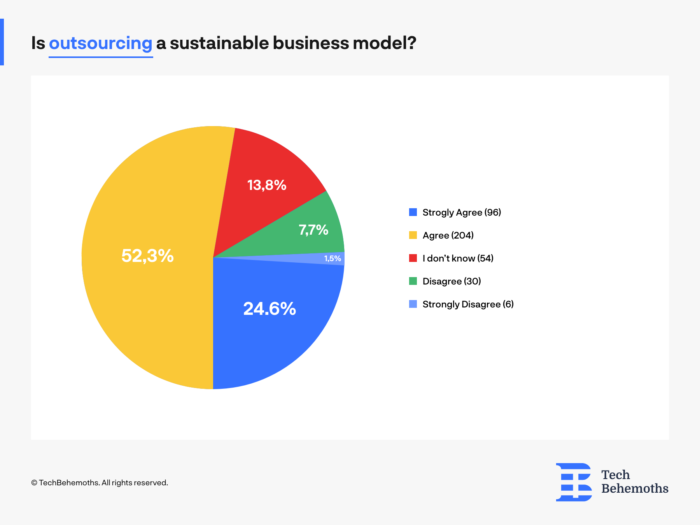 IT Outsourcing Pros and Cons
Generally, the main argument why outsourcing is a good option for small IT companies is flexibility. This advantage has been underlined by the pandemics where office-based companies with rough discipline policies underperformed. On the other hand, IT outsourcing is most of all associated with remote work and small teams from different countries. The pandemic didn't change too much for these companies and allowed them to move forward with their projects but also to expand and discover new markets.
Outsourcing is also a risk-free business model, which makes the process a lot smoother for both companies and clients. While outsourcing companies always know what are the project requirements and have clear steps that are not likely to change soon, and if they change, that will generate extra income. And on the other hand, the client always knows all steps and ways for its project. So it's a win-win situation.
Based on the same survey, the 324 respondent companies consider these advantages most important in outsourcing:
76.9% of respondents (or 300 companies) voted for both of these options.
As secondary benefits, outsourcing companies mention higher profits margins (38.5% or 150 companies).
 A risk-free business model (35.4% or 138 companies).
Access to new markets (36.9% or 144 companies).
On the other hand, 12 companies consider that outsourcing has no benefits.
Other 54 companies think that outsourcing has other benefits than those mentioned above.
IT Outsourcing in the Pandemic
The pandemic was a challenge for most companies and industries. Yet, IT managed to survive and even develop adapting its capabilities to remote work and freelancing. Most of the small businesses also considered the pandemic a positive experience rather than a negative one.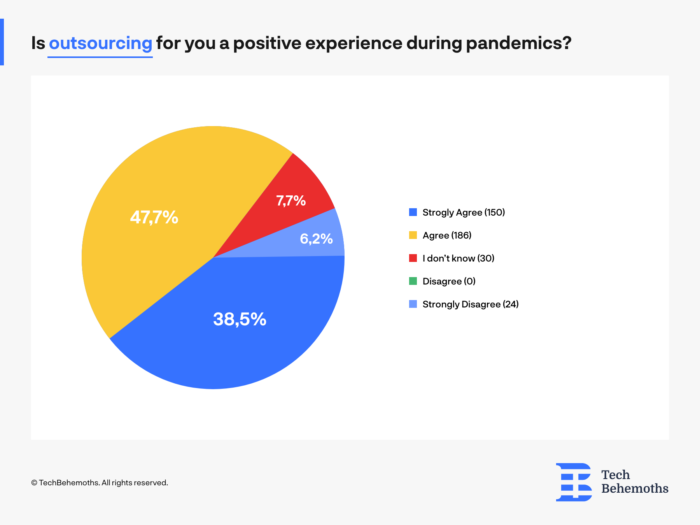 More than ⅔ of all survey respondents think that the outsourcing industry had a positive journey during the pandemic.
 While only 6.2% mentioned that it was not a favorable period to do business. Taking into account the answers for outsourcing benefits, they all match what the pandemic meant for this industry in particular.
The research also shows that 38.5% of companies strongly agree that outsourcing was a positive experience during the pandemic.
Others 47.7% simply agree with the statement.
However, the IT outsourcing industry will be different after the pandemic taking into account that big players like Apple, Microsoft, Amazon, Dropbox, and Oracle are changing the working schedule, and slowly adopting full or partially remote work for their employees.
But outsourcing is divided into two categories when it comes to remote work: those who never had a problem with it and those who are concerned about discipline and focused on providing a friendly working environment and productivity.
In the first case, outsourcing companies and businesses adopted remote working from the very beginning. While in the second case, remote work may lead to breaking contracts, low productivity, and chaotic work environments — in the worst-case scenario.
IT Outsourcing Predictions
Most of the outsourcing companies are micro, small, boutique companies, especially those providing IT services. The industry develops at high speed, and it's not in the direction some would expect to. So, instead of growing the number of employees, the outsourcing industry grows mainly due to new other small companies that outsource.
It is indeed a profitable solution, especially in the 2021 pandemic context that hit every industry across the globe. But when it comes to the growth speed of outsourcing companies, almost half of surveyed companies think that it's slow.
In the near future, IT Outsourcing will probably be a leading business model from both financial and professional perspectives. This may happen by 2025, but also earlier. It is, however, a dynamic market that could go down as well.
The post Is IT Outsourcing a Sustainable Business Model in 2021? appeared first on Home Business Magazine.
Author: Editor
Powered by WPeMatico