Home Business Magazine Online
Eagle Mountain is one of the fastest-growing cities in America, and big businesses are taking notice. This breathtaking region of Utah is bustling with activity as new developments are underway. Residents will soon enjoy a food and shopping center at the corner of Eagle Mountain Boulevard and Pony Express Parkway, right in the heart of town.
It will serve as the base for Wendy's, Subway, Chipotle, Taco Bell, Wing Stop, Little Caesars, Ace Hardware, and Macey's Grocery. Other businesses will also establish shops, including Gamer's Inn, Peppy Paws, Noodles & Company, Sun Republic, Great Clips, Swig, Crumbl, and America First Credit Union. These will address the needs of the community and bring everyone closer together.
Tiffany Walden is spearheading the project for her fellow residents. The real estate investor believes in the tremendous potential of Eagle Mountain, citing its excellent location in the middle of Utah's urban corridor. The city has a natural landscape that encourages exploration. Many come here for brief outdoor adventures and come back for permanent settlement.
The population ballooned from 250 in 1996 to over 50,000 in 2022. Most transplants are young and high-educated individuals attracted by affordable homes and recreation opportunities. Although locals embrace development, they protect the wildlife and preserve the city's charm through innovative projects.
Eagle Mountain is part of the Provo-Orem metropolitan area. In 2001, the once sleepy town became a fourth-class city. It has natural landmarks, including sections of the original Pony Express trail — the old mail delivery network that ran from Missouri to California and used horse riders to carry cargo. Ancient Fremont Indians also carved rock art petroglyphs around 1,800 years ago. The Lake Mountains form its eastern and southern borders. The original territory extended west with the annexation of White Hills and parts of Pole Canyon, pushing the total land area to 50.43 square miles.
A Long Journey to the Mountain City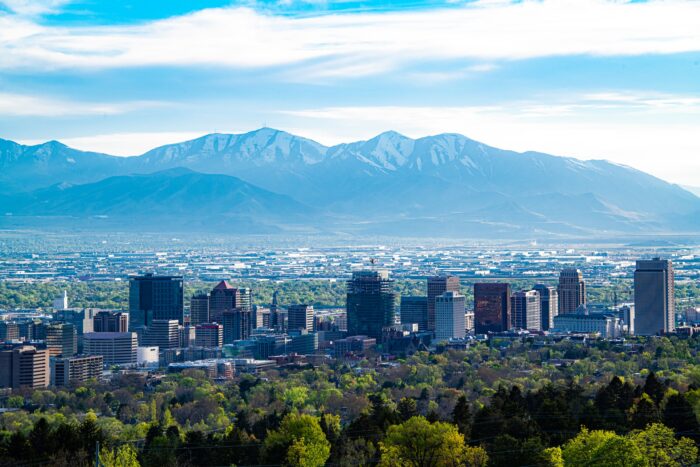 Like most people in Eagle Mountain, Tiffany Walden grew up elsewhere. She spent her childhood in Brevard County, Florida. The environment couldn't be farther from Utah, literally and figuratively. It wasn't a happy period in her life. Her parents drifted apart shortly after her birth. After her mother left, her father threw himself into his work. She and her brother lacked parental supervision, leading to unfortunate incidents. She tried to escape the deteriorating situation, but she was unsuccessful. Her father sent her to a facility in Orlando, where she stayed for three years.
Mental health was a poorly understood subject back then. Instead of providing helpful treatment, the facility kept Tiffany Walden in a windowless warehouse and subjected her to abusive behaviors. This chaotic childhood prevented her from attending school. At 15, she developed Crohn's disease — a digestive tract inflammation that leads to abdominal pain, diarrhea, weight loss, fatigue, and malnutrition. The illness forced her father to pull her out of the facility. By then, she was old enough to go to high school.
In 2004, Tiffany Walden and her young son moved to Eagle Mountain to get a fresh start. It was the logical choice since her father, John Walden, was among the people responsible for establishing the city. She started from the bottom in the new place, taking on a waitressing job to support her small family. It wasn't easy, but she kept showing up to earn a living. Her hard work paid off. The people around her noticed her diligence and dedication, including her father.
Rising to the Top
In 2008, John Walden asked Tiffany to join his business. He needed someone trustworthy to manage 50 spec homes that he converted into rental units because of the recession. Being away from her father for most of her life, she was unfamiliar with real estate. She took a leap of faith anyway and began learning about the industry. The job helped her gain valuable knowledge and experience. In 2012, she knew enough to set up her own LLC and take on greater responsibilities in the business. She handled property development finance and bookkeeping with excellent results.
Tiffany Walden never rested on her laurels. She continued to educate herself about real estate until she became an expert on various topics. Her commitment was clear to see. Eventually, her father began to look at her not as a helper but as a competent partner. He took her from the shadows into the forefront of the business. John Walden took her to meetings so she could listen in. He also introduced her to the decision-makers: real estate developers, local government officials, and state legislators. When John Walden passed away in 2017, Tiffany was ready to take over. He formally designated her as his replacement in the company, and she proved her worth as a leader.
Honoring a Legacy
It was a difficult transition. Walden had to mourn her loss while taking on tremendous responsibilities and dealing with seven lawsuits. She managed to steer the company in the right direction despite the obstacles. Her short tenure is already overflowing with impressive achievements, such as quadrupling her financial inheritance and employing 250 people in different businesses. Walden also orchestrated a deal with Facebook for the purchase of 1,000 acres. She built roughly 80 homes each year since taking over and continued to develop vital infrastructure for sustainable growth. The goal is to create a functional city that residents can be proud of — a dream she shares with her father.
Tiffany Walden calls Eagle Mountain her home. She tries to give back to the place where she healed, such as volunteering for the Utah Domestic Violence Coalition. She also devotes her time to the city's development, including the new food and shopping haven. Residents will experience unparalleled convenience and a greater sense of community once this hub is ready to serve their needs.
The post Tiffany Walden: Eagle Mountain's New Shopping and Food Haven appeared first on Home Business Magazine.
Author: Editor
Powered by WPeMatico